Day 7: Campobasso
Breakfast at the Hotel San Giorgio is just okay but the cappuccino is the best that I have had in a while--hot and strong. The weather is again beautiful....sunny and warm with no hint of rain; we have had very good luck with the weather during our first week.
This morning we are heading to Saepinum, a Roman city built on the site of an older Samnite town; the Samnite tribe was the power in the area until the Romans came along and there is still a strong Samnite identity among Molisans. The archaeological site is directly south of Campobasso, under the shadow of the Matese mountains which form the border with the region of Campania. Finding the right road out of Campobasso is a bit of a struggle but after a few false starts, we are on our way.
We see the lone sign for the "zona archaeologica" at Altilia and pull off into the parking lot...which is empty save a small booth and an old gentleman sitting on a tractor. There is a sign that says that parking is 1 Euro an hour but when I walk toward him to pay or get a ticket, he waves me off.
The whole site is quite distinctive and surprising because over the years, farmers had continued to live within the Roman walls. They used the old stones to build their farmhouses which still stand (although they are no longer occupied except by the staff of the site.) It is also striking that there is no admission and no guides and only one bar where some postcards are sold. A few of the buildings are used for the Saepinum museum. It is also strange and wonderful that there are virtually no other people walking around. During our two hours at Saepinum, we saw four other visitors and a handful of workers involved in restoring parts of the site.
There is not much written about Saepinum in our guidebooks...Cadogan has about a page....but we have an excellent article from the NY Times Travel Section from 1990 written by Michael Frank which helps us during our visit.
A Rarity Among Roman Towns
One of the gates--the Porta Bojano--is quite well restored; many of the thick stone walls are still standing and long stretches of the original Roman road is in place. There is a basilica with about a dozen upright columns, a large forum area, the remains of a row of shops and houses, the hexagonal market area and baths. There is a town fountain marked by a relief of a griffin and an inscription detailing who gave the money to build it. Next to the fountain, we see several brick vats that had been used to store olive oil and the remains of a water collection system. Just outside the walls, in the necropolis, there is a large, very grand tomb of the public official who built the griffin fountain.
The site is covered with grass and in the spring, the flowers are said to be very beautiful.....and there are a few stands of trees scattered around the site. It is quite a magical experience and we expect it will be a great contrast to our visit to Pompeii next week......
Here are a few pictures that may give you an idea about the site.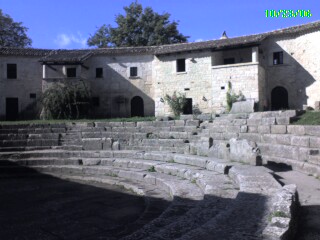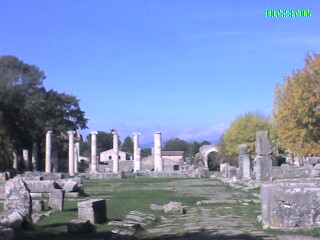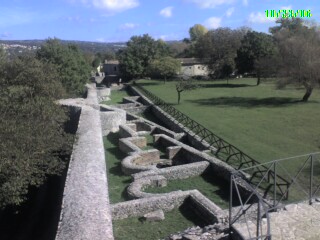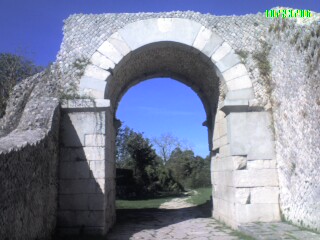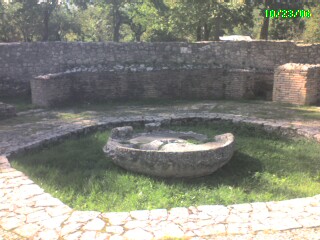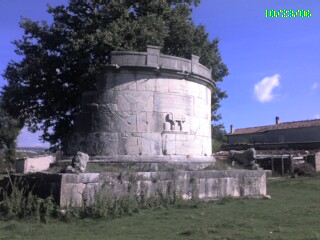 Here is web site with some more information about Saepinum.
Sepino, a treasure in the heart of Molise
We have lunch at the small restaurant right next to the parking lot....at first we think it is closed but in fact there is attractive small dining room on the second floor where two tables are already having lunch. It is a real mom and pop operation....mom is in the kitchen and pop does most of the serving. We point to a pasta dish at a neighboring table and we get two plates of thick home made pasta in a rich mushroom sauce..very delicious. Diana has a half-successful cheese plate and I have a some very good sauteed chicory which is cooked with oil and garlic. No wine today for lunch...we are trying to stay awake for more sightseeing.
After lunch, we take a roundabout route back to Campobasso....beautiful scenery, attractive hill towns and amazing vistas. We make a brief stop in Ferrazzano, a hill town just a few kilometers from Campobasso to check out a possible place to eat and then return to the hotel. Actually the return to the hotel is not that easy....we have to make several passes before we hit on the right route.
I walk into town from the hotel while Diana stays back in the room and reads......I walk up and down some of the shopping streets, through the old town with its hills and stairways, into the public garden, past the city food market and back to the hotel. Campobasso is certainly not the nicest town we have stayed in but it does have some nice areas and is well located for visiting the rest of Molise. Just before it gets dark, we get in the car and attempt to find the route to the Castello Monforte which sits on top of a hill that dominates the town. After a circumnavigation of Campobasso, we finally find the road that climbs to the top. However, it is dark by then so we don't get the full effect of the views from the top.
For dinner, we head back to town by car to eat at one of the restaurants listed in the Slow Food Guide. Feeling confident about my sense of direction, I try to take an alternate route downtown.....and end up somewhere very far away from the center. We retrace our route and find a parking space just around the corner from the restaurant. But when we get there, the name of the restaurant is different that the one that was listed. After some hesitation, we go in....the restaurant is empty and we have some more hesitation.
We decide to stay and we are happy that we do. The proprietor of "Trattoria Nerone" (no longer da Enrico) is very welcoming. He suggests that we let him bring us some local specialties so we put ourselves in his hands. The bread and wine arrive first--the house wine is very good and the bread--somewhat like a thick pizza--is terrific. We start off with two slices of very smooth and tasty polenta--one covered with a meat ragu and the other with sauteed mushrooms--and a portion of greens (maybe spinach) mixed with cheese. He brings a pitcher of pepper oil to use as a condiment--it is very spicy and very good. We pass on a pasta dish but for secondi, he brings Diana a piece of grilled veal and some potatoes and I get pork chunks in spicy, oily gravy...the pork is a bit tough but the gravy is wonderful.
We discuss Molise with the proprietor; he asks why we are visiting. I tell him that I am doing research...so he brings out a few brochures and points out some places that he thinks we should visit. For dessert he brings us a vanilla pudding and home baked cookies, which we only pick at...not our kind of dessert.
While we are eating, another table is occupied by two men. They finish before we do but, before they leave the restaurant, they come to our table and introduce themselves. One is a local dentist (a regular customer of Nerone) and his brother is a doctor in Campobasso. The owner of the restaurant had told them that we were from the USA and had showed them my card. The dentist tells us that he has studied in Boston and invites us to come visit him at his office. He gives us his card and there are handshakes all around. We pay the bill (Euro 43.00--about $50.00 US) and say goodbye to the charming owner.
The drive home is easy. Tomorrow we will visit the other provincial capital of Molise--Isernia.