Day 1: Soriano nel Cimino
The flight over is, in fact, one of our better ones. Using frequent flyer miles, we are on Iberia--Dulles to Madrid and on to Rome. The trans-Atlantic trip is not exactly comfortable--the seats are very narrow--but I have a bulkhead seat and Diana has no one next to her. The food is palatable and the plane arrives on time--not too bad. The connection in Madrid is smooth--the airport is sleek and new, but the walk (even with moving sidewalks) from the arrival gate to the gate from the Rome flight seems endless. The flight to Rome is delayed while we wait for 30 people arriving from Mexico but, as per usual, the seats on the intra-European flights are more comfortable than the ones on the trans-Atlantic ones.
Baggage arrives fairly promptly and the car rental is uneventful. We take the back roads to Soriano nel Cimino--our first stop--driving through the rolling hills of central Lazio, past the beautiful volcanic Lake Vico set in a dark green wood, past hazelnut groves and then through chestnut forests on the slopes of Monte Cimino, where we see people on the sides of the roads picking up fallen chestnuts.
Soriano nel Cimino suddenly appears in front of us, a dense hill town topped with a large fortified castle.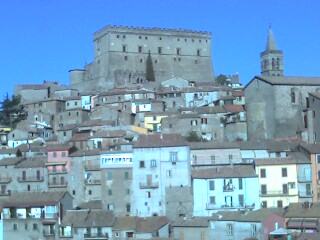 We drive into town--with a slight detour when we drive the wrong way down a one way street--and meet Michael Kovnick (our "landlord", who is a frequent poster on the Slow Travel message board) in the Caffe Centrale. Since parking is limited and the apartment is located on a narrow, winding street in the hilly quarter under the Orsini castle, we convoy to the parking lot and then he ferries us (and our luggage) up to the apartment.
The apartment is quite nice with a great view out of the window over the town.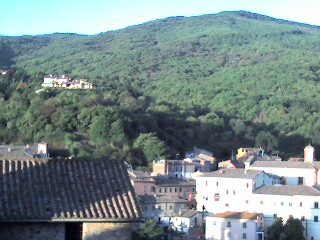 After he shows us around the apartment, we unpack, get the computer connected (there is a wi-fi connection) and take showers. I go out for a short exploration of the town to get my bearings. Soriano is very lively and larger than I expected--lots of traffic which is exacerbated by the arrangements for the big chestnut festival that will take place on the weekend.
Michael invites us to come with him to Civita Castellana (about 30 minutes away) for dinner with a friend of his who has an apartment in the center of town. Even though we are afraid that jet lag will hit us on our first day, we decide to go. After a rest, we take a little stroll in town before he picks us up for the drive to Civita Castellana. We had actually stayed there for a week four years ago so I am able to give him driving directions into the centro storico. We had liked staying in Civita Castellana but had not thought it was a particularly attractive town...however, under the streetlights, the town looked a lot nicer than we remembered.
Michael's friend Alison--who also sometimes posts on Slow Travel--lives in a spectacular apartment right across from the Duomo...high ceilings with wooden carvings, large rooms...which she had remodelled and fixed up herself. We meet some of her ex-pat friends and end up going out to dinner. The first place we head for is closed but we have a very pleasant meal at an informal trattoria called Mignolo....I have a lasagna-like dish which is both delicate and tasty and Diana's ravioli-like pasta is also very good.
Dinner goes on for a while and we don't leave Civita Castellana until almost 11 and don't get to bed in Soriano until after 11:30 pm...a very long first day. We hope it means that we will have no trouble sleeping through the night and avoiding any effects of jet lag.