Day 15: Belluno
A little overcast today in Belluno…we are glad that we made our trip to the mountains yesterday when it was bright and clear.
Today we follow the red carpet that leads to the Tiziano exhibition which is installed in the Palazzo Crepadona which is the Belluno library. The exhibit has taken over the entire building which been transformed into a large art gallery. The show features the last twenty years of Tiziano's career when he spent a great deal of time in the area–both painting and tending to his family's lumber business. In addition to paintings by Tiziano and his workshop–which have been gathered from museums and private collections all over the world — there are works by his contemporaries who were influenced by him and letters, books, documents and other materials relating to his career.

Although there are a number of powerful paintings with religious themes on display, we are most impressed with some of the very strong portraits that Tiziano painted–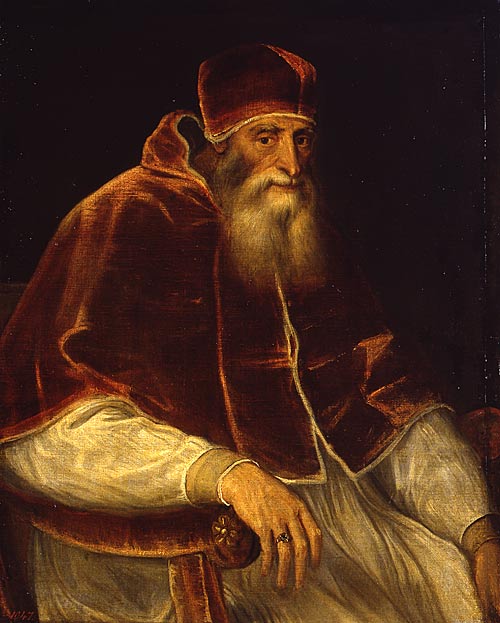 and some of his drawings.
The final room of the show is a large, very dramatic space designed by Swiss architect Mario Botta and holds three of Tiziano's masterpieces……the portrait of Pope Paul III (above), a portrait of St. James and–particularly pleasing to me–a Last Supper from a private collection.
We have a coffee at the bar with the panoramic terrace overlooking the Piave Valley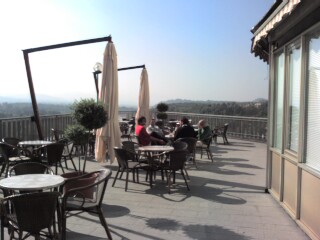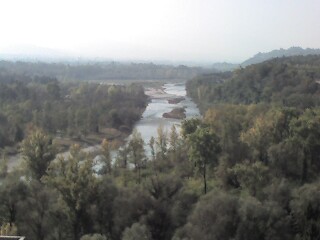 and then buy some supplies for a picnic at a store that sells Pugliese specialties–bread from Altamura and mozzarella cheese from Andria.
We get in the car and head for a ski area called Nevegal which is to the south of Belluno, and find a picnic grove (though with no view) where we have a great lunch which is curtailed because–even though the sun is shining — it is a little chilly. After lunch, we drive to the top of the mountain but it is so hazy that the dramatic wall of mountains north of Belluno are barely visible.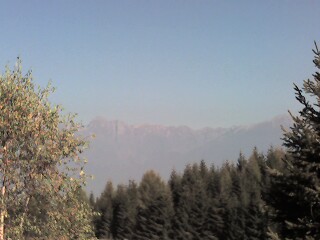 We then head off to find the Strada del Prosecco (the Prosecco Road). This area is the center of production for prosecco, the sparkling wine that is the apertivo of choice all over Italy. We are stymied for a while because the main road from Feltre to Valdobbiadene is closed so we have to backtrack and find an alternate route on the other side of the Piave. This road is quite dramatic….running along the river and heading straight through a heavily wooded narrow valley.

We make the obligatory prosecco stop at a bar on the main piazza in Valdobbiadene and then follow the Strada del Prosecco out of town. As we drive out of Valdobbiadene, there are vines covering the hillsides for as far as you can see….it is quite a striking sight.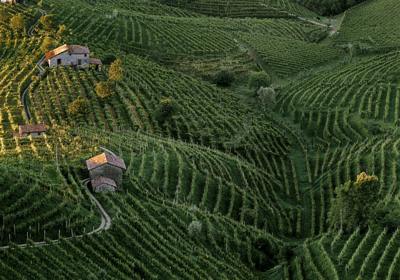 (not my picture)
We drive on the old road between Vittorio Veneto and Belluno and it is quite interesting to be driving back and forth under the autostrada which towers above the state highway. The views of the countryside are quite different that we had seen two days earlier when we took the autostrada into Belluno.
Dinner is at a pleasant trattoria called La Taverna….and there are enough choices for us on the "difficult" menu. I have a plate of tagliolini with porcini and a local dish called "schiz pastin"–which is grilled cheese (good), wet polenta (not as good) and a pork/beef meat patty that was very reminiscent of the chopped meat kebab that we get at Persian restaurants. Diana has parpardelle with a duck ragu and an excellent fillet- but finishes off with a soggy apple strudel.

Belluno is very quiet as we walk back to the hotel.