Day 2: Soriano nel Cimino
We sleep through the night (very soundly) and wake up to the sounds of the church bells in the steeple right next door ringing at 7:30 a.m. The sky is bright and sunny out as I head down the hill to pick up supplies for breakfast--tea, rolls, butter, cheese, etc. We have a leisurely breakfast and I enjoy the "luxury" (in Italy) of three cups of strong drip coffee with my breakfast. Michael and Paola have outfitted their apartments with features appealing to Americans including coffee ground for an American-style drip coffee maker, and wi-fi and a computer.


We don't head out until about 11 a.m. (we try to do a laundry--the clothes we wore on the airplane--but we can't get the washer to start, so we will have to wait until we return when someone can come up and tell us what we are doing wrong). We are heading first to Farfa (a town we had visited on our Spring trip) on a shopping expedition....Diana had bought some dish towels there and wished she had bought more. She tried to buy them on-line but the shipping cost was prohibitive so we decided to return to buy more. The drive takes about an hour--partly on the autostrada and partly on pretty country roads.

While Diana makes her purchases, I wander around the very picturesque little village and revisit the beautiful little church with its striking stone floors and attractive frescoes.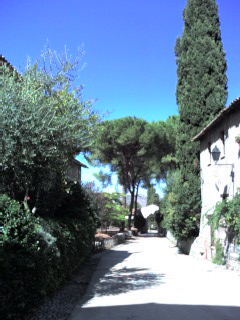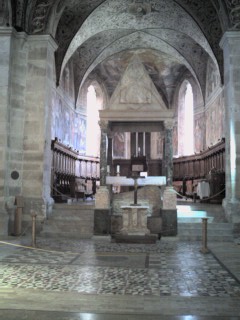 By the time we leave Farfa, it is almost lunch time so we stop in the town of Montopoli in Sabina (just up the road) at an alimentari to buy sandwiches, fruit and water. We find a bench under a tree with a view over the countryside and enjoy our lunch.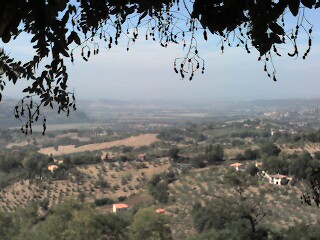 After lunch, we stroll through the "borgo mediovale" which turns out to be a very pleasant "mostly" pedestrian only "centro" with wide streets and attractive squares.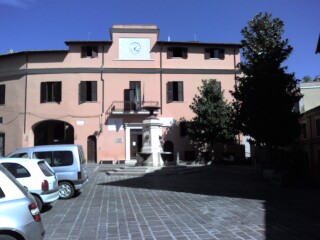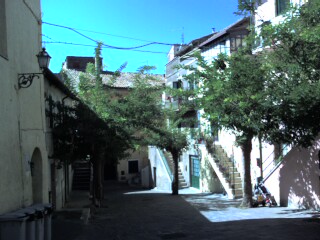 We climb up to the top of the town where there is a "belvedere" with broad views over the Tiber Valley towards Rome.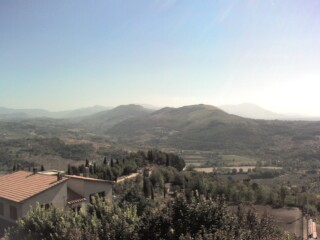 There are also a few very large "Mexican" style murals that are bright but seem a bit out of place in this Italian hill town. We wonder about their provenance.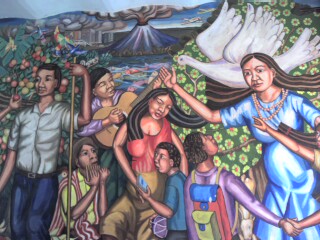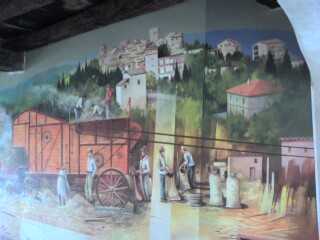 Driving back towards Soriano, we decide to take a detour to Civita Castellana and see if the town looks as nice in the daytime as it did last night. We take back roads that meander up and down the hills through the Tiber Valley, passing a number of fortified villages en route. One large hill town that I had never heard of--Sant'Oreste--is set dramatically on the side of Monte Soratte.

When we drive through Civita Castellana in the full light of day, it turns out that it is more like we remember it from our stay there four years ago.....the warm lighting of the street lamps gave it a much more attractive appearance in the night time.

We make a brief stop at the Roman city of Falerii Novi, which has a good amount of Roman walls left standing, a Romanesque church, some dense patches of blackberry bushes and not much else.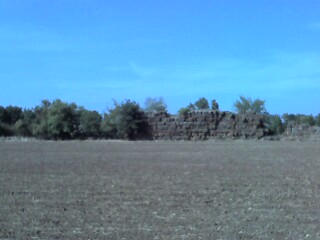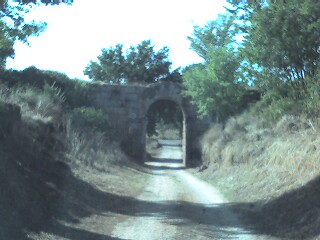 Our last stop on this excursion is in Bagnaia--the Villa Lante, one of the large gardens established by the ruling families of the area in the 16th century. First, we stop for an excellent gelato in the main piazza (Diana particularly likes the nocciola made from local hazelnuts). The gardens are dramatically sited on a slope overlooking Bagnaia....the lowest level is an intricate manicured formal garden with a large fountain in the middle.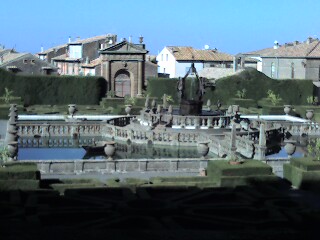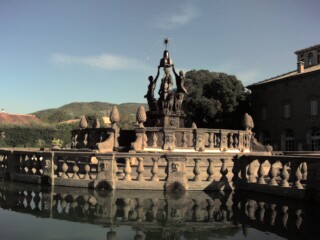 The rest of the garden climbs up the hill and features long water courses and basins and fantastic statuary. While we are there, we see several gardeners hard at work to keep the gardens looking well groomed.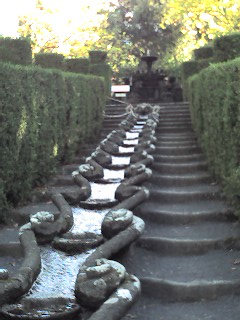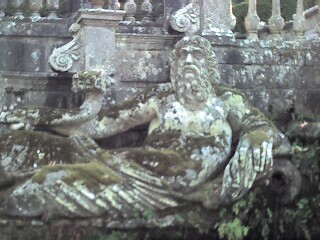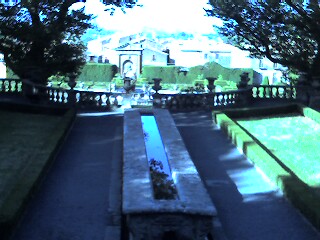 When we get back to the apartment in Soriano, Rita (one of the people who takes care of the DiscoverSoriano.com apartments) comes up to check on the washing machine. It turns out that we didn't have one of the control dials in the right position so the "problem" is resolved in a minute and the machine is working. Then Michael calls to invite us to accompany him to dinner at friends of his--Romans who have a house and farm near Soriano. They are building a new b&b on their property, where they also grow hazelnuts, grapes and olives--"the three important food groups". We drive out with him to a place only a few miles from the "centro storico" and meet Maurizio and Tiziana and some of their friends and family for a "informal dinner". They have a fantastic house in a beautiful setting and before dinner, Maurizio invites us into his "cantina" to sample the newly made grape "mosto" which has just begun to ferment.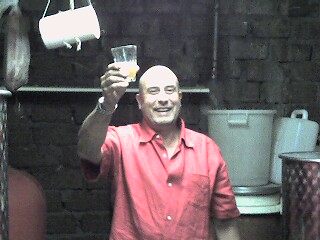 We really hit it off with them and have a wonderful evening and a terrific dinner--fettucine with freshly gathered mushrooms brought by Michael's brother-in-law Sergio, roast pork and roast potatoes, salad and ice cream, washed down with Maurizio's wine. After dinner, we tour the soon to open bed and breakfast which is quite spectacular....Michael will help with the promotion of the b&b on the internet as well as providing some management assistance.

We finally head back to Soriano about midnight - it's been a full day.

Tomorrow we are planning to visit the "Monster Park" at Bomarzo.