Day 14: Belluno
The day is clear and bright–a perfect day for a drive in the mountains. Breakfast at the delle Alpi is noteworthy because we have some of the best cornetti we have ever had in Italy. The plan is to first drive north to Cortina d'Ampezzo, a big ski resort and then head east towards Bolzano to Canazei on the Great Dolomites Road, which crosses a number of the high mountain passes (over 6,000 feet high). We had done the western part of the drive two years ago and are looking forward to completing it.
Cortina d'Ampezzo is about an hour north of Belluno…a high-end ski resort that became world-famous when it was host for the 1956 Winter Olympics. We pull over at one point in the drive for a photo opportunity….a large herd of sheep and goats are spread out in an Alpine meadow right next to the road.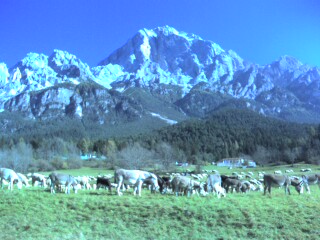 The road to Cortina is noteworthy–in addition to the spectacular views–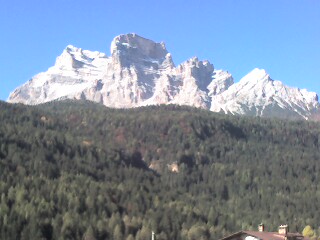 for the well maintained bike and pedestrian path that parallels the road for much of the way.
We make a brief stop in Cortina. In October–which is off-season–the town is pretty dead; most of the stores and restaurants are closed and there are few people walking on the streets. But it is very attractive in a very highly manicured way and we enjoy our stroll down the main street.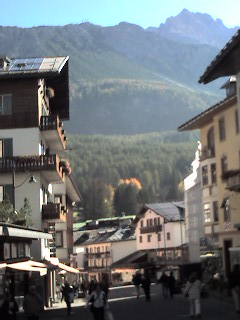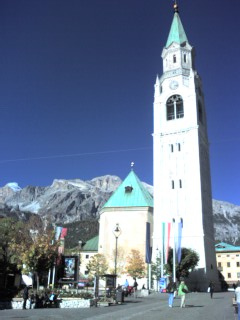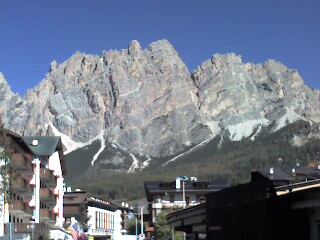 The one store that is open is La Cooperativa, which is really an indoor shopping mall. Everyone we see on the street is carrying a shopping bag from there and they are doing a brisk business when we go inside to take a look.

Once back on the road, we are continually climbing and descending…the road is indeed an engineering marvel and has more hairpin turns and switchbacks than any other road we know. The views are amazing…the Dolomites are very distinctive with their rocky, treeless tops above thick pine forests and green Alpine meadows dotted with ski chalets and farms.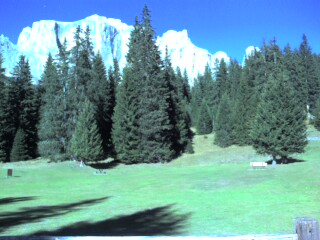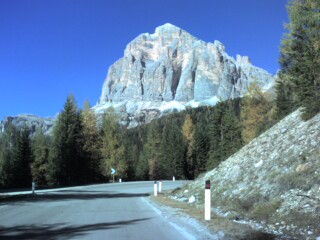 Many of the pine trees at the higher elevation seem to be yellow or orange instead of green, perhaps due to the drought that is affecting much of Italy.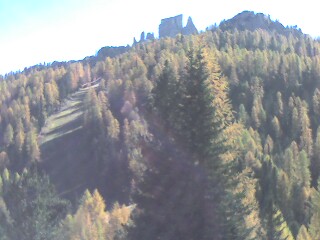 We make a stop at the Passo Falzarego, which is almost at 7,000 feet.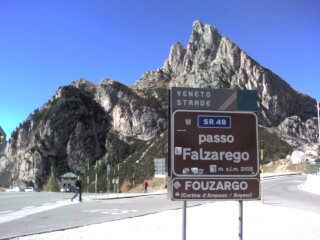 There is a cable car that climbs up even higher and we wait until we can see the two tiny cars glide up and down supported by very thin and insubstantial looking cables.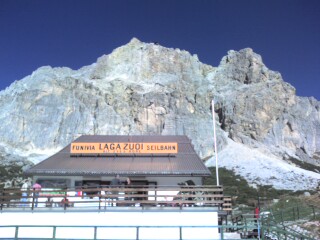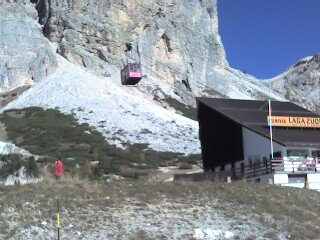 We stop for lunch in the small ski resort town of Livinallongo at one of the few places that are open at this time, the Albergo Alpino. We have a very pleasant lunch in the pretty sun-filled dining room. Diana has spaghetti with garlic, olive oil and hot peppers and a plate of grilled cheese with polenta, potatoes and cauliflower–very filling and very tasty. I have a bowl of orzo soup–a little bland–and some excellent sausage and lots of polenta. No wine for lunch today…..I need to stay alert driving the mountain roads.
The spectacular scenery continues as we keep driving west. As we are descending, we look up and see about a half dozen dot of color suspended over and in front one of the rocky crags. It slowly becomes apparent that we are watching people hanging from paragliders floating a couple of thousand feet above us.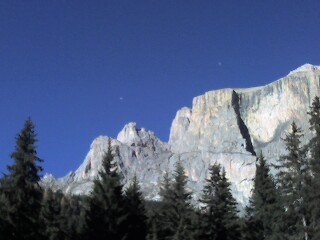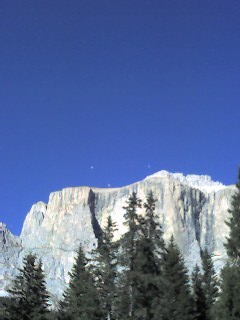 In these pictures, the paragliders look like white spots in the blue sky but it was quite amazing for us to see.
The road back–past the a mountain lake and the highest peak in the Dolomites…Marmolada—is less striking but still dramatic.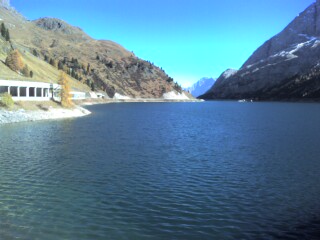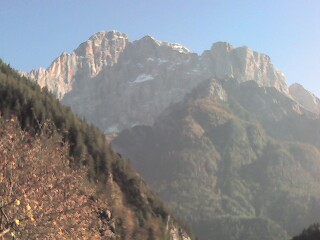 Back in Belluno, we have a drink–prosecco, the local specialty– at a cafe which has a panoramic view of the Piave River valley. We plan to eat a light dinner at the Pizzeria Cibo but it is closed on Mondays so we eat at the restaurant at the hotel which specializes in seafood. I have a very good fish risotto and a nicely done frittura mista; Diana's cheese risotto is a little rich and the baked orata is just okay. We have a carafe of the house prosecco which goes down very easily.

The trip home involves only a elevator ride to our room. Tomorrow we will visit the neighboring town of Feltre and drive on the Strada del Prosecco.