Day 18: Venice
We walk over to the main street–the Strada Nuova–to buy some fresh rolls and cheese. The rolls and my french press coffee make for a very good breakfast. The weather is cool but sunny and we feel very "Venetian" walking next to the canal and over the bridge to do our shopping.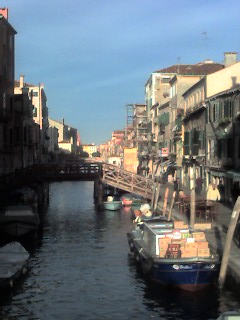 On our first day in Venice we have some chores to do before we can start our sightseeing program in earnest. First we do a laundry, trying to figure out the right settings on Norberto's washing machine. We have some difficulty because the cycle doesn't seem to want to complete so we fiddle with some buttons and finally we can open the door. However, we did something wrong because the spin cycle didn't work and the clothes are still soaked. We have to wring them out before we can hang them up on the line outside the apartment's windows.
Once the laundry is hung out, we walk over to the vaporetto ticket office at the Fondamente Nuove to apply for our monthly vaporetto pass. An individual ticket on the water buses (for non-Venetians) is now Euro 6.00 per ride (almost $9.00 US) and the daily and three day passes are still pretty expensive. However, for travelers staying for a week or more, it is possible to apply for a "tessera di abbonamento" which gets you a unlimited monthly pass for Euro 26.00. However, nothing can be that simple. First, you have to "buy" an application form for Euro 10.00 and submit it filled out, with a passport picture and a copy of the identification page of your passport. We have our pictures and copies so we sit at a bar and fill out the applications. When we go back to the ticket office to submit it, the woman checks it and tells us that we can only get a monthly pass for November. It is too late to get the October pass; the machine is already set for November.

We must look pretty dismayed because when we ask whether there is any way to get a pass for October, she continues to review the applications, makes a phone call, comes back and issues our temporary papers with the necessary monthly pass for October. We are very relieved…..(The "tessera" is actually valid for three years and enables one to buy either monthly passes or individual tickets at the Venetian price of Euro 1.00–a pretty good deal.)
I have arranged to have lunch today with friends from the Department of Labor so we head to the designated meeting point near the Rialto. We walk through the narrow streets that get more and more commercial and crowded as we approach the main shopping area. I stop to take some obligatory pictures of gondolas on the canals…after all, we are in Venice.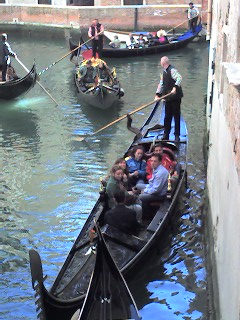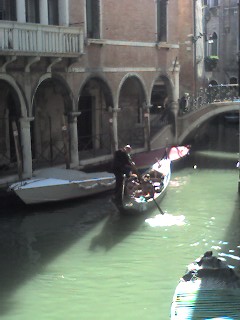 We meet up with Gerri Fiala, Ray and Sue Bramucci and their friend Nancy at the appointed place. Sue Bramucci has fallen in love with Venice and they now come back to visit every year. We cross the the Rialto Bridge to get to the restaurant–Alla Madonna–where we are eating lunch. Alla Madonna is a busy old-style Venetian restaurant, known to tourists but also popular with Venetians, especially for lunch. We are given a good table over in a corner, our waiter is very attentive and we have a very enjoyable lunch– the food, the wine and the company.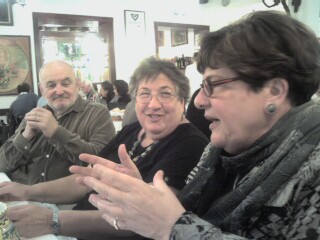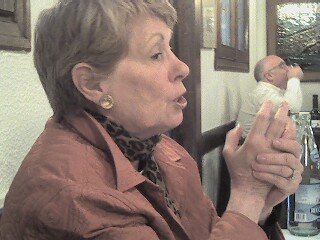 Ray is wearing his Boston Red Sox baseball cap but doesn't know that the Red Sox had won the game the previous night to stay alive in the playoffs. I tell him that the Red Sox had won and show him the story from the New York Times that I have on my Treo…which makes him very happy. He tells us that he has been stopped frequently by Americans in Venice who want to know how the Sox were doing.
After lunch, we say our goodbyes and hop on the vaporetto–our first ride using our newly acquired passes–to go back to the apartment. We stop to buy some groceries. I do some work and then go out for a late afternoon exploration of the neighborhood. While out walking, I do get a picture of Tiepolo-like clouds in the sunset.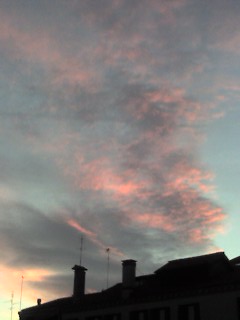 We go out for a light dinner to a neighborhood trattoria–Antica Mola–where we have eaten on previous trips . It is very crowded and the only available tables are out in the garden. The meal is pleasant and the people are very nice…..my clam soup is excellent, Diana's lasagna and mixed salad is okay and we are able to drink a half-liter of white wine.
It is only a short stroll back to the apartment….tomorrow we are planning to go to the Peggy Guggenheim Museum.